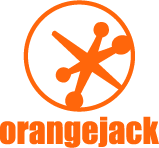 Do you remember that I've been saying I have a lot of things going on and more announcements to make? Well today I have a big one that we're very excited about. Any yes, today is April 1, but this isn't a joke.
Patricia and I have opened up our own small business called Orangejack LLC. Today is Orangejack LLC's Grand Opening.
Right now we are focusing our service to Internet Strategy, Internet Consulting, Internet Marketing, and Internet Training.
So stop by the newly redesigned (and continually tweaked) orangejack.com today!
We are open for business.